Welcome to The New China Express Service
On the afternoon of Sunday 8th November 2020 Hutchison Ports Sydney gave a very warm summer welcome to the new China Australia Express (CAX) Service to Australia with the arrival of the vessel GSL AFRICA to Sydney. The CAX Service operates under Gold Star Line which is part of ZIM, a global shipping line that has vessels in trade lanes all around the world.
With the rapid growth of the China-Australia trade, the CAX Service is a new entrant to the Australian market and will offer importers and exporters a fast service between East Coast Australia to Ningbo, Shanghai and Yantian.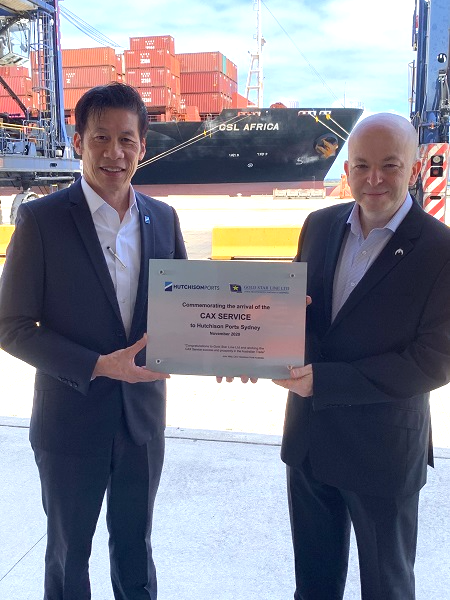 To celebrate the special occasion John Willy, CEO Hutchison Ports Australia presented John Van Pelt, General Manager of Inchcape Shipping (as agents for Gold Star Line in Australia) with a plaque to commemorate the launch of the service in Australia. " Hutchison Ports is honoured to be chosen as the container terminal for the CAX Service in Sydney and we will work closely together with Gold Star Line to ensure the service is a success in the Australian trade." said John Willy.