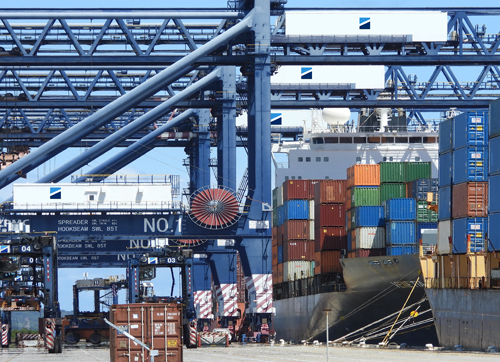 Hutchison Ports Sydney is situated at Terminal 3 at Sydney's Port Botany, New South Wales' premier port and one of Australia's major international container ports. The terminal is on a 45 hectare site and officially opened in July 2014.
Hutchison Ports Sydney is a member of Hutchison Ports, the port and related services division of CK Hutchison Holdings Limited. Hutchison Ports is the world's leading port investor, developer and operator with a network of port operations in 53 ports spanning 27 countries throughout Asia, the Middle East, Africa, Europe, the Americas and Australasia. Over the years, Hutchison Ports has expanded into other logistics and transportation-related businesses, including cruise ship terminals, distribution centres, rail services and ship repair facilities.

Maritime Security Information
Hutchison Ports Sydney is located within a Port Security Zone at Port Botany.    Maritime Security is at Level 1
Unathorised entry is prohibited – access is controlled and unauthorized entry is an offence.  Unauthorised possession of weapons or prohibited items within the Port Security Zone is prohibited.  All access to the terminal is via appointment only.
All visitors and contractors must report to the Security Office and sign-in each day.  Photographic identification (such as Driver's Licence) is mandatory, and must be produced to Security Officers for identification verification purposes.
CCTV cameras are located in key positions around the terminal for the purposes of surveillance strategy aimed at controlling security risks.
General Site Information
Hutchison Ports Sydney is on a 49 hectare site and officially opened in July 2014.
Main Features
Quay Line – 1300 metres
Berths – 4
Rail sidings 2 x 600 metres,
4 Post Panamax Quay Cranes and 12 Automated Stacking Cranes
On site empty container storage facility
The terminal generally operates on a 24/7 basis (please see the Customer Portal for more details on daily operations). Parking is available at the front of the operations building for our staff, visitors and contractors.
Hutchison Ports Sydney requires your co-operation in observing and complying with all site safety rules, instructions and guidelines. This includes:
Reporting all safety hazards and potential environmental impacts;
Reporting all incidents and near misses;
Wearing appropriate PPE in all operational areas.
Following instructions and warning signage at all times;
Be in a fit state and not under the influence of drugs, alcohol or fatigue.
Click Here for the Hutchison Ports Sydney Emergency Response Plan
Planning for Sustainability
As part of our commitment to the environment and responsible planning for sustainability, Hutchison Ports Sydney have designed the terminal to incorporate energy efficient and emergency protection devices into its infrastructure and operations:
movement sensors that automatically turn off lights when not in use;
solar panels for additional energy supply;
rainwater collection (up to 90,000L of storage capacity);
stormwater collection and treatment devices;
liquid detection devices installed in all dangerous goods areas;
emergency drainage protection for all conduits leading into the estuary area;
4m high noise wall erected on the terminal boundaries;
mobile plant and equipment utilise 'quacker' style movement alarms.