In support of White Ribbon Day
Hutchison Ports proudly supports the White Ribbon Campaign which is aimed at stopping violence against women – in particular by preventing violence before it occurs by challenging the deeply ingrained attitudes, social norms and power inequalities that give rise to men's violence against women and gender inequality.
This year's Annual White Ribbon Charity Lunch was the fourth time the event has been held, and the aim is to promote the message of the White Ribbon campaign within the Transport & Logistic Sector.  It also provides an opportunity to discuss the issue of men's violence against women within the context of the sector, and society as a whole, and allowing those involved with the campaign a chance to discuss the progress made to date alongside the work to be done in the future.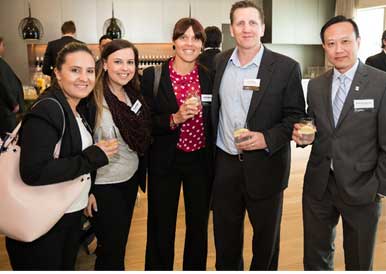 Pictured left to right
Harriet Mihalopoulos, Jessykah Miles, Emma Bunting, Blair Moses, Chee Keong Chan.
The luncheon was opened by White Ribbon CEO Libby Davies who gave an overview of the White Ribbon campaign for 2016.  Throughout the day several guest speakers spoke about Domestic Violence and the impact it was having on our community and other guest speakers included John McGrath, Spirit of Tasmania acting CEO; Mick Doleman, Maritime International Federation IEO; John Silvester, Crime Journalist and Jake Blenkinsop, Hunterlink Case Manager.
The luncheon event was hosted by the Spirit of Tasmania and Maritime Union of Australia at the Royal Melbourne Yacht Squadron in St Kilda.
For more information on White Ribbon Day events or to get involved with the campaign, visit the White Ribbon website at: https://www.whiteribbon.org.au/