Hutchison gathers pace as Port Botany nears completion -Shipping Australia Ltd Journal Spring 2013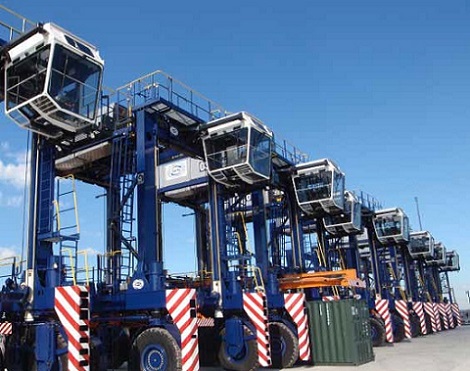 Hutchison Ports' Australian operations are gathering pace with its Botany container terminal only weeks from completion of Phase 1, and on target to be operating before the end of the year.
The group's Brisbane terminal began operations earlier this year.
Phase 1 covers more than 20 hectares and includes two berths, four quay cranes, three high density container stacks with automated stacking cranes, eight twin-lift shuttles and two 600 metre railway sidings, along with administration and operational buildings.
A temporary concrete batching plant has been established on site with 70,000 cubic metres of concrete being poured. Ten kilometres of drainage and 18 kilometres of cabling were required on the site, which is largely reclaimed land, and at the construction works' peak about 500 people were working on the site.
Its four specially-built post-panamax quay cranes arrived at the terminal in August aboard the 248 metre heavy lift ship, Zhen Hua 14. It took 10 days to offload the cranes, which are now in the final stages of commissioning.
The cranes, each weighing about 1600 tonnes, have special shuttle booms that retract horizontally, rather than the more conventional raised boom configuration. This approach was adopted to avoid restrictions on crane operations, given the cranes' height and their proximity to Sydney airport.
As with Hutchison's Brisbane terminal, its Port Botany automatic stacking cranes (ASCs) are one-over– five models and operate in pairs, two per stack, with each pair providing fast and efficient shuffling of containers.
ASCs enable higher and more densely packed container stacks without any manual handling. This improves the terminal's ability to handle peak dock or land-side demand loads.
The ASC stacks are behind security fences, given their 24/7 automated operation, and the need to provide a high level of safety. Shuttles carry containers between quay cranes and the ASCs, which stack and load / unload trucks.
Terminal access for road freight is automated, with drivers swiping a card that allows access and indicates which containers they are delivering and/or picking up. At the stack, truck drivers must stand on a weight sensitive safety pad, before the loading or unloading can occur.
| | | |
| --- | --- | --- |
| | | Design work has already begun on Phase 2 of the terminal, with other phases being developed in response to market demand. Ultimately, the terminal is expected to operate four berths with 16.4 metres depth alongside, and a total capacity of more than one million TEU. |
Work has also started on the new rail terminal that will be linked by a dedicated freight line to Hutchison's new inter-modal terminal at Enfield, in south-west Sydney. Hutchison Logistics Australia is due to be operating there by mid-next year. When fully developed, Enfield will have a capacity of 300,000 TEU per year. This will help relieve road freight congestion around the port, effectively replacing 230,000 truck movements.
Dr Gumley, chief executive of Hutchison Ports Australia, said that Hutchison has made a considerable investment in developing Sydney's new international container terminal with civil works, equipment and IT systems, that will combine to deliver a sophisticated and modern operation.
"It will deliver value to the NSW freight task, the port, and most importantly, our customers," he said.
In Queensland, Brisbane Container Terminals (BCT) is finalising negotiations with a second consortium whose first ship was due in mid-September. Auspac Consortium members, Neptune Pacific Line and Pacific Forum Line, were the first to enter into an agreement with BCT and as reported in Signal last edition, the Neptune Pacific vessel Captaine Tasman, was the first to call at the new terminal. Neptune Pacific Line principals were on site to witness the arrival of the ship. They commented that an additional terminal operator in Brisbane, and Sydney, would definitely benefit their customers, and the industry.
HPA's chief executive, Stephen Gumley, said that the arrival of the Captaine Tasman was a significant event in the development of the Hutchison's Australian operations, and a historic event for the Australian container shipping market.
"We're delighted that Neptune Pacific Line and Pacific Forum Line are the first to entrust us with their business," he said. "We intend to ensure their trust is well placed, and that the arrival of the first ship marks the start of a long, and a mutually successful partnership.
"While our first client and first ship are very important to us, it also marks the introduction of more choice and competition in the market.
"Shipping lines now have a new option in Brisbane, and soon in Sydney. While we intend our entry into the market to be a gamechanger, we're under no illusions about how tough it is to break into markets dominated by two large players, particularly in Australia."
| | | |
| --- | --- | --- |
| Pictured marking the arrival of the first ship at BCT are from left to right: Mr Ray Bancroft, General Manager Australia, Pacific Forum Line; Mr Rolf Rasmussen, Managing Director, Neptune Pacific Line; Mr John Willy, HPA Commercial Manager; Mr Bill Macdonald, Group General Manager Neptune Pacific. | | |
BCT is currently operating one berth, and will expand to two next year. It is the first terminal in Australia, and only the second of Hutchison's ports to employ automated stacking cranes coupled to the company's nGen terminal management system. The first was its Barcelona Europe South Terminal which commenced operation last year, and is performing well.
HPA believes it can deliver a competitive advantage to shipping lines because of its ability to guarantee berth availability, its introduction of technology-enhanced operations, and its team focus on service, flexibility and innovation; all of which should deliver better cost control and improved schedule reliability.
Shipping companies are watching the developments at HPA with a keen interest and will, no doubt, welcome the increased competition with the expectation that it will yield increased efficiency and reduced costs.