Brisbane Container Terminals Team – Good and Getting Better
Brisbane Container Terminals has increased it ship handling capabilities and reduced truck turnaround times, as development of the new terminal continues.
Container Terminal Manger, Matt Carley, says the improvement is a result of the growing expertise of the BCT team and new equipment coming on line.
Since taking over the reins as Terminal Manager in April this year, Mr Carley says the focus has been improving wharf and landside service levels.
"Over recent months we have been able to build on the solid work the BCT team has done since opening in 2012 – adopting new technologies for Australian conditions and helping transport operators become familiar with the new processes, many of which are automated, "Mr Carley said.
"That work is really starting to payoff. Truck Turnaround Time has been trending downward for months and is now averaging well under 30 minutes. Additionally the exceptions, individual trucks that are delayed, are rapidly diminishing in both frequency and duration. Combined, this means truck turnaround times are consistent and predictable, making it easier for transport operators to schedule their fleets beyond our terminal.
"We will continue to hone our expertise and systems and work with transport operators to gain maximum efficiencies"
Mr Carley said that BCT's ship service capabilities were enhanced with the arrival and commissioning of two additional quay cranes in June.
"Having twice as many quay cranes is obviously a big boost to our wharf-side capability," Mr Carley said. "Perhaps more importantly, we now ostensibly have a full complement of skilled and committed employees.
"As a start-up business, BCT not only had to build the new terminal, but also hire an entire a new workforce. The company saw the long-term benefit in hiring people with considerable industry experience and expertise, and hiring and training people from outside the industry.
"This was not without risk, but again we are seeing the benefits of the effective and enthusiastic team that now exists at BCT," Mr Carley said. "Gross crane rates have been trending upward for months topping 35 moves per hour on some services. Perhaps more importantly for shipping lines, Berth Productivity is high and improving; so ships are consistently meeting their turnaround targets."
Construction has started to expand the container stack area, which will ultimately double BCT's capacity, when completed in 2015.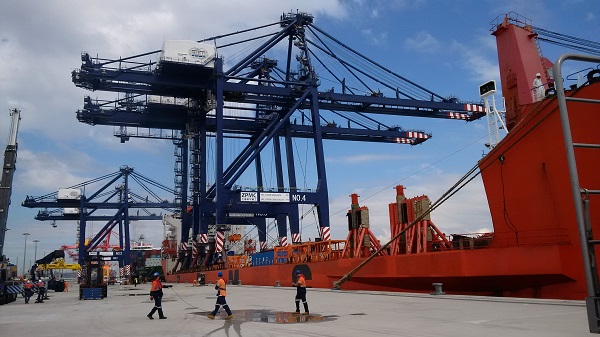 Photo: Two post panamax quay cranes arrive at BCT. The cranes have a lift capacity of 65 tonnes and operational working height of 37.5 metres