Auspac Consortium first to call at new Brisbane Container Terminal
Hutchison's Brisbane Container Terminals has entered agreements with Auspac Consortium members Neptune Pacific Line and Pacific Forum Line.
The Neptune Pacific Line vessel, MV Captaine Tasman, is the first vessel to call at Hutchison's new terminal in Brisbane. It arrived at the terminal in the on Friday 10 May.
BCT Chief Executive, Dr Stephen Gumley, says the arrival of the Captaine Tasman at the Brisbane terminal is a significant event in the development of the Hutchison's Australian operations and an historic event for the Australian container shipping market.
"We're delighted that Neptune Pacific Line and Pacific Forum Line have elected to be the first to entrust us with their business," Dr Gumley said. "We intend to ensure their trust is well placed and that the arrival of the first ship marks the start of long and a mutually successful partnership.
"While our first client and first ship are very important to us, it also marks the introduction of more choice and competition in the market.
"Shipping lines now have a new option in Brisbane and soon in Sydney. While we intend that our entry into the market is a game-changer, we are under no illusions about how tough it is for companies breaking into markets dominated by two large players, particularly in Australia. This again underlines the importance to us of the agreements with Neptune Pacific Line and Pacific Forum Line," Dr Gumley said.
Neptune Pacific Line says it believes an additional terminal operator in Brisbane and Sydney would definitely be of benefit to its customers and the industry.
---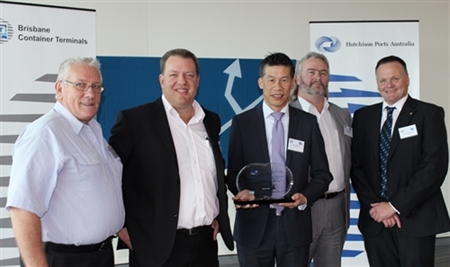 Pictured marking the arrival of the first ship at BCT are from left to right: Mr Ray Bancroft, General Manager Australia, Pacific Forum Line; Mr Rolf Rasmussen, Managing Director, Neptune Pacific Line; Mr John Willy, HPA Commercial Manager; Mr Bill Macdonald, Group General Manager Neptune Pacific Line, Dr Steve Gumley HPA Chief Executive.
Media Contact
Pat Wilson
Hutchison Ports Australia
0499 777 334